News & Events
Wed Feb 1, 2012
Water treatment explained in plain simple english!... read more
---
Sat Jun 11, 2011
Residents of the Rope subdivision in Tay Township are no longer under a boil-water advisory... read more
---
Thu Jun 9, 2011
Residents of the Rope subdivision in Tay Township are under a boil-water advisory... read more
---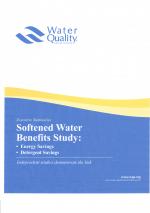 Sat Mar 19, 2011
A study conducted by The Water Quality Research Foundation found that using softened water compared to water of 15 gpg will result inthe following: Instanteous Gas Water Heaters will save over 5% in Energy costs during their life cycle, will save 30% in total operating costs and will require no deliming versus every 2.7 years for unsoftened water of 15 gpg Gas Storage Water Heaters will save over 12% in operating efficiency and over 10% energy cost savings. Savings of 45% of the dishwasher soap to produce the same reults or better Savings of 50% of the laundry soap and energy savings from washing with colder water with the same or better results. Even greater savings would be achieved when compared to harder water!! ... read more
---
Wed Dec 22, 2010
... read more
10 Biggest Mistakes
made when purchasing water
treatment equipment and how
you can avoid them.
What Our Customers are Saying
When asked about The Water Store Midland customer experience, Norm said "Great Service and Great Water" ...
Water Softener was worn out. Follow-up was done quickly. Water test showed we needed to replace system. After installation, we had to call there was a...
"Between Gary and Lisa, you cannot hope to get more pleasant and professional help regarding water. I would strongly recommend them to anyone as I ha...
When it comes to The Water store Midland, Derreck says "Friendly service, nice staff and good water."...
Sue says "We enjoy coming into The Water Store Midland, where Lisa is always an enjoyable conversationalist. She is very helpful when we need an...